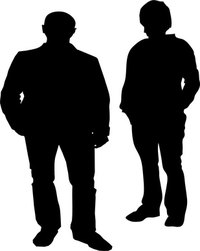 Coordinating clothing is not difficult if you remember a few basic guidelines. When trying to match an unusual color like olive, another color in the green family will be too close. The key is choosing colors that provide contrast, yet are not so totally opposite that they draw unwanted attention. In making your final choices, notice your comfort level. When you have selected a sport coat and pants that look good together and look good on you, you will exude a confident air that says, "I'm ready for anything."
Things You'll Need
Olive pants
Several sport coats
Choose a variety of sport coats to compare with the olive pants. Opt for colors that offer contrast, but are neutral against the green, such as tan, gray and navy. Colors that are too close to olive will result in a clash. Colors that are close together on the traditional color wheel, such as green and blue, will blend well.
Consider the occasions for which you will wear the olive pants and sport coat. If it is for a conservative office setting or meeting, opt for colors that will give you an understated look, such as a navy or tan sport coat. In a more flamboyant setting, and if you like to be noticed for your attire, try colors that are opposite green on the color wheel.
Go to an area where the light is similar to the light you will be in when wearing the sport coat and pants. If you will be inside in an office, use florescent lighting. If you will be outdoors, take the clothing outside, or if you are in a store shopping, take the clothing to a window.
Hang the pants in front of you and hold each sport coat against the pants to see how each would look paired with the olive pants. Clothing should enhance your overall look and not be noticed before you are. Choose at most one other color, such as navy, to go with the color olive, and complete your outfit with neutrals such as tan, white, cream, beige or gray.
Consider your personality and comfort level. Choose the sport coat that, when paired with the olive pants, you will feel comfortable wearing in a variety of settings.