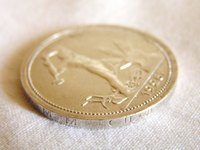 Finding a secure investment for your wealth can be a difficult and risky task. Stock markets fluctuate on a daily basis, and sometimes the company you invest in can go out of business altogether. Some investors cover their assets by investing in gold, but the current price of gold remains at an all-time high. For a secure and stable investment such as gold, but much cheaper to invest in initially, many people turn to buying silver. Although silver prices can experience dramatic price swings because it offers less liquidity than gold, it still represents a common hedge against an uncertain stock market. Learning what to look for when getting into the silver market can help you secure your assets without the fear of losing your wealth in risky investments.
Decide if you want to buy physical silver or bullion coins. You can buy silver in bars or bullion coins, but you cannot circulate them. Consumers purchase silver bars primarily as a silver stash in the event the price of silver increases dramatically.
Determine the purity of the silver you want to purchase. Coins such as the Canadian Silver Maple can contain as much as 99.99 percent pure silver. However, coins can cost more per ounce than bars because of the cost to fabricate them.
Check for fluctuations in the price of silver in global markets by visiting sites like Bulliondirect or Monex (see resources). Each site lists current prices for silver, so you should watch for patterns and devote at least a week to your research, knowing that the price could still fluctuate at the last moment.
Find a reputable dealer as reported by the Better Business Bureau (BBB) that has been in business for decades with very few complaints. These companies will sell you silver directly. Some companies with solid reputations according to the BBB include Monex and the American Precious Metals Exchange (see resources).
Know the premium rates before agreeing to purchase direct. For example, you should expect about a 16 percent premium over the price of silver for coins and a 5 percent premium for silver bars. This premium represents the amount your silver must appreciate in value before you break even on your investment.
Click the type of bullion or coins you want to purchase after reading about the types of coins and the overall silver content.
Phone the company's sales department, and finalize the purchase using a certified bank check or an electronic wire transfer.