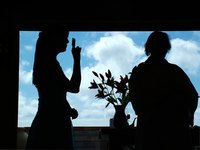 Communicating with someone who doesn't speak English can be challenging, but it doesn't have to be impossible. When faced with a language barrier, try to find alternate ways to express your needs. Non-verbal communication is often more important than verbal communication, so pay attention to the person's body language and demeanor. Listen actively and be aware of your surroundings. When you're traveling in a foreign country, do some research and carry a dictionary. Being prepared will ultimately help you communicate the most effectively.
Things You'll Need
Find a translator. This is undoubtedly your most convenient option. A third party who understands both languages can facilitate effective communication, particularly in business settings. An electronic device that can translate speech or typed words may also be useful.
Use hand gestures or sign language. The gestures for daily activities, such as eating and sleeping, are generally easy to understand in any language and may be enough to help you get your point across.
Try speaking another language if you can. Many non-English speakers are often versed in other languages. A second language may help the two of you communicate more effectively, even if neither of you are fluent.
Draw a picture of what you're trying to communicate. If you're traveling, carry a small notebook and a pen for when you encounter a verbal impasse. You don't have to be an artist to illustrate what you need. Even simple sketches can be sufficient.