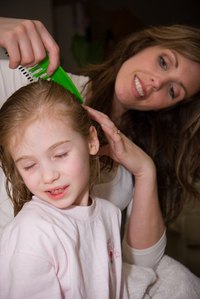 According to the Mayo Clinic, head lice are the second leading communicable disease affecting school children after the common cold. These tiny, wingless insects lay eggs in the hair at the scalp and can cause itching, inflammation and rash. Head lice spread by close contact with other infected people or objects, and can live for a short time on hats, combs, pillowcases and towels. A specific substance in tea tree oil, called terpinen-4-ol, has been clinically proven to attack and kill lice on contact.
Things You'll Need
Tea tree oil shampoo
Regular shampoo (optional)
Tea tree oil (optional)
Fine-toothed comb
Wash hair with either tea tree oil shampoo, or your regular shampoo with four to five drops of tea tree oil added.
Comb through wet hair with a fine-toothed comb, wiping it on a towel as you comb to remove any eggs or nits. Set the towel aside to be washed in tea tree oil.
Repeat the process every day until you find no more nits on the comb.