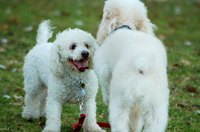 White-furred poodles can look beautifully pristine, but their runny eyes can lead to unsightly stains on their faces. Sometimes known as "tear stains," this type of mark is common in poodles and some other dogs and is caused by one of several factors, including allergies, bacteria growth or the shape of the dog's face and tear ducts. These stains can be combated using homemade or store-bought methods.
Things You'll Need
Black tea
Microfiber cloth
Determine the cause of the stains. If the stains are worse after the poodle eats, it may be allergic to something in its diet. Try changing the animal's food to see if the tearing diminishes. It helps to identify the cause of the tears, but even if you can't, you can take steps to diminish or remove the stains.
Make a weak cup of black tea by using one tea bag and leaving it in the cup of water for 10 to 15 seconds. Allow the tea to cool.
Soak a microfiber cloth in the tea and gently squeeze the liquid into the dog's eyes. The dog will not enjoy this process, so you'll have to carefully hold its eyes open. The tea will naturally combat the bacteria growth in the tear ducts and is an effective way to avoid further staining.
Purchase an eyewash kit at a pet store. These kits often don't contain harsh chemicals that can burn your poodle's eyes. An eyewash kit may contain two products–one to remove the brown stains around your pet's eyes and another to combat bacteria in the tear ducts.
Hold your poodle's eyes open and drip the eyewash into the eyes. Eyewash is commonly boric acid-based, which is an antiseptic that helps remove the stains. The eyewash is sold in droppers, making it easy to apply to your pet's eyes. This solution will also open up clogged ducts.
Apply a second type of eyewash, commonly a saline solution. This solution will work against the germs in the eye and eye duct and prevent further tearing and stains.
Consult your veterinarian if the problem persists.