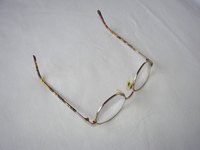 If you are tired of wearing glasses and want to change your appearance, contact lenses can be the solution to get rid of your frames. Contact lenses and glasses follow different standards of measurement. As a result, a glasses prescription cannot be used for contacts and vice versa. With the help of your local eye doctor and an up-to-date eye examination, you can order contacts online or through your eye doctor's office.
Schedule an appointment to visit with your local optometrist or ophthalmologist. If you have not had an eye exam in the past year, you must receive another one before obtaining a glasses prescription. If you have already had an exam, bring the glasses prescription with you to the appointment. The expiration date for the validity of your exam should be on the prescription slip.
Show the prescription slip to the optometrist or ophthalmologist. He will convert the glasses prescription into a contacts prescription. The values on each prescription are not the same and are measured in different lens powers.
Order contacts through the optometrist or ophthalmologist office or go online to a reputable contacts site such as 1-800-CONTACTS.com, Vision Direct or Lenses.com. (See Resources). If ordering contacts online, you may need to fax a copy of your prescription or simply enter the lens power of each eye.