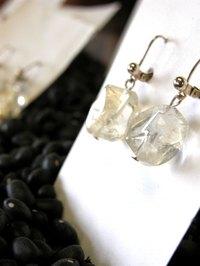 Earring safety backs come in handy for any pierced earring. Some jewelry manufacturers provide these rubber backs when they sell the jewelry, but others do not. While your earrings may stay securely in your ears without safety backs, it's a good idea to use them if you are active or if you don't want to lose your jewelry. Make several pairs of safety backs and keep some in your purse for emergencies.
Things You'll Need
Craft foam, at least 1/8 inch thick
Ruler
Safety pin
Lay the craft foam flat on your workspace. Use the pen to make two circles with 1/4-inch diameters. You can also make flower-shaped backs if you want, but make sure that the diameter remains 1/4 inch.
Cut the circles out using sharp scissors. Supervise children if they are making the backs with you.
Pierce each circle carefully with the safety pin. Feed the earrings through the completed safety backs.