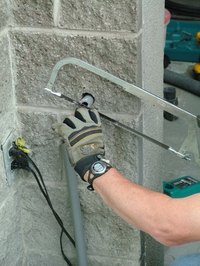 Installing bus duct requires the installer to work with and handle high voltages and currents which can cause instant death. If you are not a knowledgeable, experienced user of the equipment and tools required to complete this task, do not, under any circumstances, attempt this task. If you are an experienced installer of bus duct, you know that bus duct is custom designed per application. Due to this wide variability, both the written instructions coupled with the diagrams must be used in reference to each other. You also know that all power must be cut off and disabled before touching the electrical components which make up a bus duct.
Things You'll Need
Bust duct instructions with diagrams
Eye protection
Hard hat
Gloves
Specialized electrical tools (not available to the general public)
Check the location of the machinery/apparatus to be connected to the bus duct. Both ends of the bus duct run must be shown in the diagram in order to properly fit the bus duct. Within a 20-foot run, the ends of the two runs can not vary more than ¼ of an inch in any direction. Check any walls which will be penetrated to accomplish the duct run, and verify vapor barrier thickness of them.
Confirm the presence of all materials received including hardware, splice plates, gaskets and insulation as well as the critical bus duct drawings and layouts. Take the parts out of the shipping containers and lay them out on a clean, dry surface in the area where it will be installed.

Install all gaskets on the outdoor flanges your application requires. Arrange the mounting supports for the bus duct. Refer to the illustrations and check the enclosed information for the number and arrangement of the required supports for your particular bus duct.
Refer to the instructions and diagrams as you install the sections of bus duct. You may need some temporary support as you link these sections. Align them and bolt the sections together. If you are bolting outdoor sections, use gaskets with all enclosure joints and stainless steel bolts and hardware.

Install the bus duct supports, making adjustments where needed. Use the diagrams and labeled layout as needed to attach the supports. Remove the covers from the duct. Loosely connect all the bus duct components: bus joints, installation hardware, flexible connectors and splice plates according to the specific diagram you received with the bus duct.
Tighten all connections. Use the enclosed Table and torque requirements per bolt size and bolt material or metal the bolt is made from. Insulate all joints as directed by the specific install directions.

Check space heater wiring and connections if included. Examine the wiring insulation carefully, and clean as needed with denatured alcohol only. Put the covers back on and tighten every cover bolt.