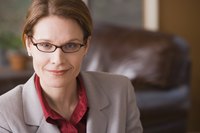 A default student loan affects both your financial and personal life. However, except in extreme situations there are ways to bring past due federal student loan payments current no matter how far behind you might be. For many borrowers, loan rehabilitation is the best option because payment arrangements are income-based and all references to the default are removed from your credit reports when the process is complete.
Eligibility Requirements
Loan rehabilitation is an option for most, but not all borrowers. Payment arrangements are not possible if your lender has a monetary judgment against you or if you've plead no contest or guilty to a crime involving student loan fraud. In addition, there is no chance to make arrangements again if you ever default on a payment arrangement. Finally, loan rehabilitation works on a per-loan basis. If you have more than one default, you must rehabilitate each loan separately.
Standard Payment Arrangement Guidelines
Start the process by requesting loan rehabilitation from the lender currently holding your loan. As of July 1, 2014, all rehabilitation agreements must be in writing and payments can be no more than what is "reasonable and affordable" for your financial situation. The lender will start by determining a monthly payment according to Income-Based Repayment guidelines, which consider 15 percent of your disposable income as a reasonable payment.
Alternate Payment Arrangements
You may be able to negotiate a monthly payment less than 15 percent of your disposable income based on your financial situation. To do this, request and fill out a financial disclosure form and provide any required supporting documentation. Your lender will review information about your monthly income, monthly expenses and family size, and adjust the monthly payment arrangement if you qualify for a lesser amount.
Recourse Options
If you feel that a revised monthly payment still isn't acceptable and the lender refuses to negotiate, contact the Department of Education Default Resolution Group at 1-800-621-3115 for assistance. As a final option, you can file a written or online complaint. Send a written complaint with supporting evidence to: Chief of Contract Analysis and Compliance US Department of Education 61 Forsyth Street, SW 19T89 Atlanta, GA 30303. File an online complaint with the Federal Trade Consumer Financial Protection Bureau.