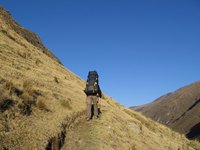 The three things you need to backpack around the USA on a budget are buses, great hiking boots and non-perishable foods. Buses get you around within reason inexpensively. Great hiking boots keep your feet from needing aid. Non-perishable foods including trail mix, nuts, seeds and dried foods keep your energy up and costs down.
Things You'll Need
Backpacking gear
Toiletries
Sundries
Food
Water
Water filter
Bus route maps
Cell phone
Prepare your backpacking gear using a checklist. Essentials include camping pot, cooking fuel, utensils, the backpack itself, pad to lay on, portable tent, lightweight clothing matched to climates to be visited, flashlight, Swiss army knife, twine, bug repellent, water filter, powdered soap, latex gloves, water bottle, sun and rain gear.
Purchase a good quality pair of hiking boots. Consider a spare pair for emergency. Lightweight yet sturdy construction provides safety and comfort. Backpacking around the USA requires such boots due to various terrain for which you will twist and turn your feet. To avoid light to moderate ankle and foot injuries, good quality hiking boots are your ally.
Determine the number of days for your backpacking journey and list the dates and cities you plan to be visiting. This helps determine the supplies you can restock.
Purchase sundries in travel sizes for sun block, deodorant, skin lotion and antibacterial soap. Purchase toiletries in the same manner such as cotton swabs, mouthwash, toothpaste and toothbrushes and wipes.
Pack clothing that you can wash simply and wear many times during your backpacking journey around the USA. The amount of clothes to pack should be no more than four days' worth to keep your backpack as lightweight as possible.
Gather foods that are non-perishable and purchase nuts in bulk to save money. Contain them in resealable, lightweight containers. Your backpacking budget will include lighter food fare than city or country living.
Locate bus routes and schedules for the cities you wish to visit as you backpack around the USA. Buses are the most economical way to get you and your gear across town and between cities. Buses are commonly used by backpacking parties around the USA.
Book night stays in advance at hostels around the country that align with your backpacking locations. Use the web to visit hostel sites such as Hostels.com that provide information on affordable hostels, saving you tons of money over hotels
Contact National Park Rangers to find out about availability of campgrounds to stay at to keep your lodging costs down.