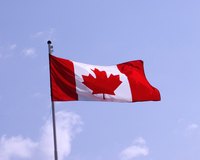 Canada is a rich and diverse country offering a wealth of opportunities for international students, world travelers and those seeking temporary employment. According to Citizenship and Immigration of Canada, each year more than 5 million people travel to Canada. However, if you are from certain countries, plan to stay in Canada for a certain period of time or are visiting for certain reasons, you will need a Temporary Resident Visa.
Things You'll Need
Passport
Two recent passport photos
Application fee
Identification cards
Proof of employment
Letter of invitation from relatives or friends
Proposed itinerary
Download the temporary resident visa application forms from the Citizenship and Immigration Canada website. This package includes the application guide, as well as the forms necessary for obtaining a temporary resident visa.
Read the application guide thoroughly to determine if you meet the requirements to receive a temporary resident visa.
Fill out the application forms completely. Be sure to attach all necessary documents such as a copy of a valid passport, two recent passport photos for each family member applying, the application fee and proof that you have enough money to visit Canada. Other documents needed are identification cards, proof of employment, a letter of invitation from family or friends who are residents of Canada and a proposed itinerary.
Provide the application fee and obtain a receipt. The fee is $75 per person for a single-entry visa, $150 for a multiple-entry visa and $400 for a family.
Proofread and double-check your application. Make sure that you have signed and dated all materials. In addition, be sure that you have included in the envelope all of the necessary documents, along with the fees in Canadian currency.
Send the application forms and necessary documents to the Canadian visa office in the country or region in which you live.