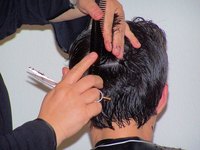 The vintage hairstyles of the 1950s are still fashionable and can be seen on the heads of men everywhere. From the greased, slick look of the ducktail to the more conservative cut, these styles have come and gone and come back again. Television icons like James Dean and Elvis Presley were the inspiration for young men in the '50s and still are in 2011. Celebrities like Johnny Depp and Brat Pitt sport styles that resurrect the popular do's of the '50s.
The Apache (or reverse mohawk)
Wash and blow dry the hair.

Cut all of the hair very close to the head, about ¼ inch or shorter. Use a 1 guard if you use clippers.
Shave a strip down the center of the hair.
The Crewcut (or flat-top or military cut)
Wet the hair and then blow dry it.

Cut the sides and back of the hair to about ¼ inch. If using clippers, use a 1 guard. Some men may prefer no guard at all, shaving the hair to near bald.
Leave the top of the hair ¼ inch longer than the sides and back. Use a 2 or 3 guard for the top of the head.
The Conservative
Wash and blow dry the hair.

Cut the back and sides of the hair with scissors, a bit longer than ¼ inch.
Cut the top of the hair, leaving it longer than the sides. Trim bangs that can be worn down or combed back.
The Ducktail
Wet and towel dry the hair. This style requires a longer "short" haircut.

Swoop the top of the hair back with a comb. Don't comb it tight to the head. Allow it to "poof" just a bit.
Slick the sides of the hair back to meet the swoop. The sides should come together to form what looks like a "duck tail" in the back of the head. The gel will hold the style in place for a "wet" look.
The Pompadour
Wet and towel dry the hair.

Rub pomade evenly throughout the hair.
Slick the sides back tight with a comb. Make sure the hair is close to the scalp.
Comb the top of the hair upward into a "poof." Create volume at the top, similar to how Elvis Presley wore his hair.
Pull down a few pieces of hair onto the forehead before the pomade dries.