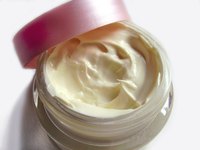 It is easy to make a luxurious body cream with ingredients that are readily available and by using equipment you probably own. Similar products that are commercially available are usually quite expensive, while this cream is economical to prepare. This particular recipe makes a rich body cream that is designed to leave your skin soft and smooth. It also makes a suitable handmade gift for a wide variety of family members and friends.
Things You'll Need
Small jars with lids
6 tbsp. shea butter
Medium glass bowl
8 oz.bottle of hypoallergenic, unscented lotion
Wire whisk
Essential oil of your choice
1 tsp. vitamin E oil
Gather the equipment and supplies you will be using and make certain that your work area is clean. Thoroughly wash your lids and containers in warm and soapy water, dry them, and set them aside. Cleanliness is important when making natural cosmetics, because it is possible for them to become contaminated with bacteria.
Melt the shea butter inside a medium glass bowl by using the microwave. This may take less than 30 seconds. Watch it carefully and remove it from the microwave as soon as it turns to liquid.
Pour the hypoallergenic, unscented lotion into the melted shea butter and stir it with the wire whisk until the two ingredients are completely blended together. Return this to the microwave and heat it for approximately one minute. Do not allow it to boil over the sides of the bowl.
Add the essential oil, one drop at a time, until you achieve the level of fragrance you prefer. Add the vitamin E oil. Keep stirring the cream with the wire whisk until all of the ingredients are evenly distributed.
Transfer the cream into the containers. Replace the lids and place the cream in the refrigerator until it sets.