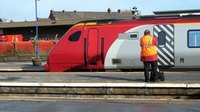 The distance from New York City to Washington, D.C., is just over 200 miles. Commuters and travelers who make the trip often know of several ways to get from one city to the other. The method you choose depends mostly on your reason for travel as some methods of transportation are much faster than others. If you decide on a method of transportation that requires a ticket, such as a train, the bus or a direct flight you can purchase tickets online, in person or over the phone.
Take the train. Without traffic lights, construction and slow drivers to slow it down, the train is one of the fastest forms of transportation between New York City and Washington, D.C. On your train trip you can walk around, use the restroom and even visit the snack cart for a cup of coffee or a pastry. Prices and schedules vary. Tickets are available on Amtrak's website at Amtrak.com or in its train depot station.
Fly. Buy a plane ticket from any New York area airport to either of the Washington, D.C., airports. Buy through your favored airline or through a travel website. The flight between Washington, D.C., and New York is less than an hour, but the trip in general is significantly longer when you consider security checkpoints and having to arrive so long before your flight departs.
Take the bus. Depending on the bus service you choose, such as Vamoosebus.com or Boltbus.com, you can take an express bus with no stops or a bus route that makes stops in various cities between New York and the D.C. area. Price and schedules vary based on each bus line and time of service. Tickets can be purchased online through your bus company or in person at their terminals.