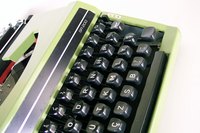 The Olivetti Co. was a major maker of typewriters throughout the 20th century. Even though the company began shifting its focus toward computers in the 1950s -- eventually going bankrupt in 1999 -- it continued to make manual, then electric typewriters until people started to abandon the devices for computers. The Olivetti Lettera 35, a portable manual manufactured in the mid-'60s, is antique by modern standards. But when prepared to use it correctly, you can type on the Lettera 35 and travel vicariously back in time to commune with your low-tech predecessors.
Flip up the paper guide on the top of the machine that's equipped with a ruler for fine-tuning.
Insert your paper into the roller slot behind the paper guide, using the ruler to line up your left margin.
Slide your paper into place with the knob on the right and click the paper guide back down onto the paper.
Make adjustments to the paper alignment with the roller release switch above the knob on the roller.
Change line spacing with the lever at the top left of the keyboard.
Begin typing, returning the roller manually to the left margin with the top handle on the left of the roller. The roller will return to the left margin when it reaches the right margin, set with the top black sliding margin guides along the center bar.