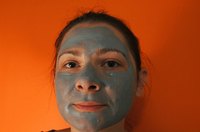 Clay masks can benefit a wide variety of skin types in many ways. They draw out toxins and impurities and depending on the type of clay you use; they can moisturize dry skin, deep clean oily skin, help heel acne prone skin, revitalize tired and dull skin and tighten up aging skin. To get the most out of your clay mask, it helps to know how to properly apply the mask.
Things You'll Need
Pull back your hair with a hair band, so that it is out of your face. It will also keep the clay mask out of your hair.
Wash your face and neck using warm water and a mild soap or facial cleanser. Remove all traces of makeup and pat your face dry with a towel. Warm water will help open up your facial pores, so they absorb the mask better.
Read the instructions on your facial mask packaging to see if there are any specific directions to take into consideration. Look at how many minutes you have the keep the mask on your face.
Apply the mask to your face using clean fingers. Spread a thin layer over your face and neck all the way down to your collarbones. Avoid your eyes and lips. Use an ironing-like, back and forth motion on your forehead to work the clay into any wrinkles your may have.
Relax your face and avoid moving facial muscles, so that the mask can dry for the duration mentioned on the packaging. If you are using a cream based clay mask, the clay won't dry on your skin.
Wet your face using warm water, so your facial mask softens and can be removed more easily. Use a wet washcloth to gently wipe the mask from your face and neck.
Splash cold water over your face to close up your facial pores, so it's harder for dirt to get in them. Dab you face dry with a clean towel.