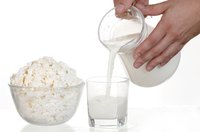 Whey protein is a mixture of proteins found naturally in milk. It is separated from milk during the processing of cheese, resulting in a high-quality protein. It is rich in amino acids, which are important in developing and maintaining muscle mass. Whey protein is commonly used to help gain weight because it is rapidly digested by the body. There are many products containing whey protein including powders, nutritional bars and beverages.
Things You'll Need
1 cup milk
1 cup ice cream
Ice cubes
1 scoop of whey protein powder
1 banana
1 cup milk
1/2 cup of berries
Blender
Whey protein bar
Drink a smoothie for breakfast. Put 1 banana, 1 cup milk, 1/2 cup of berries and 3 ice cubes in a blender until smooth. The smoothie will fill you up and give you energy for the day.
Make a whey protein powder shake. Pour 1 cup milk, 1 cup ice cream, 3 ice cubes and one scoop of whey protein powder into a blender for 30 seconds or until smooth. Pour into a glass and drink as a meal or snack.
Consume a whey protein bar after workouts to gain weight and increase muscle mass. The whey protein will increase levels of amino acids in the blood, which increase muscle mass.
Sprinkle whey protein powder on cereal, oatmeal, yogurt or other foods. Consume about 20 to 25 grams of whey protein per day for noticeable weight gaining benefits.
Drink plenty of fluids. It is important to stay hydrated when increasing protein in your diet because a high amount of protein can put extra stress on your kidneys.