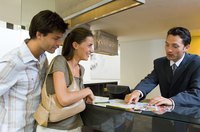 Sheraton Hotels and Resorts plus Meridien, Aloft, Four Points, Westin, The Luxury Collection, Westin, W Hotels, St. Regis and Element properties make up more than 1,100 hotels and resorts in nearly 100 countries. Members of the Starwood Preferred Guest program are eligible to earn and redeem Starpoints in return for stays at all nine brands belonging to Starwood Hotel Resorts worldwide. Membership is free, and registration is easy.
To enroll as a member of Starwood Preferred Guest, visit the Starwood Hotels and Resorts website (www.starwoodhotels.com). Under the "Book & Stay" tab, click on "Join Now" at the far right. Enter and confirm your email address to proceed. The registration requests name, address and telephone number. The system requests preferences for room type, communication type, email frequency, language and birthday information for promotions.
Next, review the details you have entered on the screen, making any desired changes by clicking "Edit." Members have the option to receive no emails from Starwood Preferred Guest (SPG). When all of the information is correct, click "Continue."
Your virtual SPG membership card and an email are generated with a unique membership number. By entering that number, you may choose from various designs to create a personal SPG card featuring beautiful photography from Starwood Hotels and Resorts around the world.
New members are invited to complete a personal profile at their convenience. Membership is active immediately; however a membership card is not mailed until approximately four to six weeks after a new member's first stay at a Starwood property.