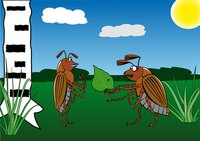 Overcoming your fear of cockroaches can be done by using a number of recommended techniques. Like many people your dislike for cockroaches may require help in overcoming your fear if it causes you to experience symptoms, such as panic or avoidance of certain places. You can avoid an infestation of cockroaches by keeping kitchen areas clean and storing food in sealed containers.
Things You'll Need
Photograph of a cockroach
Practice relaxing breathing exercises by inhaling deeply and hunching your shoulders. Hold the breath for a second before releasing, while relaxing your shoulders. As you exhale feel any tension or anxiety melt out of you and in to the ground. Repeat the breathing exercise until you feel completely calm. Use this exercise as you practice exposure therapy (Step 2).
Expose yourself to a photograph of a cockroach. Look at and touch the photograph while breathing calmly until you no longer feel afraid. Now move on to looking at and touching a plastic model of a cockroach until you no longer feel afraid.
Watch another person who is not afraid of cockroaches as they exterminate a cockroach that they find in the home. You can also watch someone handle a pet cockroach. It is important that the person you are watching is confident and calm around cockroaches. Helpguide.org recommends this exercise, which it refers to as participant modeling. The idea of the exercise is to show you healthy ways in which you can deal with a situation rather than becoming fearful.
Seek professional help by arranging a consultation with a hypnotherapist in your area. According to NaturalBloom.com, hypnotherapy can be used to stop your mind from associating cockroaches with fear and instead see them as something non-threatening, which you can deal with in a calm and mature manner. When selecting a hypnotherapist ensure that they are certified by asking for the professional body they belong to, such as the Hypnotherapy Association or the National Council for Hypnotherapy. Check with the organization to ensure that the therapist is legitimate.