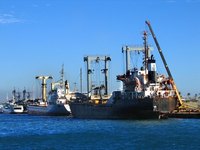 Exporting items to China requires knowledge of China's import laws and the export regulations of the United States. Considerations include: packaging, types of materials, fees and methods of transport. With the advent of trade compliance and trade barriers, there is an added responsibility to ensure that your products are able to clear customs at their destination. The Department of Commerce's Bureau of Industry and Security (BIS) is responsible for regulating commercial use items going into China, but their scope is limited so be sure to research the appropriate agency for your product.
Research your customer. To avoid doing business with someone who intends to use your items for immoral or illegal purposes, you should find out as much as possible about their business practices. Encourage your employees to ask about the end use of products. Look for red flags, like companies that request materials that are inconsistent with their production goals. If a customer turns down installation or set up of a product that is included in the price, has little or no business experience or requests delivery to a remote location, consider contacting the BIS and postponing the transaction.
Examine export regulations. Most items shipped to China will require an Export Control license for reasons like National Security and Regional Stability. Once you have classified your item on a Commerce Country Chart, file a license application with the BIS. Check the entity list that lets you know if parties involved in any part of the transaction have been under investigation. Inform yourself on exports banned from China by contacting the BIS for an updated list. Remember, even software downloaded in China from a U.S. server, free of charge, is considered an export.
Secure a letter of credit from your customer. The most widely recognized method of payment for items imported into China is a letter of credit (LOC) that ensures a bank will pay the invoice, providing all the terms of the contract are met. The most prominent bank handling trade finance is the National Bank of China, but most commercial banks in China may issue a letter of credit. International banks with branches in China can also issue a LOC, which is useful if you have doubts about the customer's credit history. A LOC also ensures that the account won't be debited until they have received their goods.
Package items properly. Export packaging usually involves three components. Transport packaging keeps your items safe during travel; examples include crates or metal containers. Outer packaging can be used for display in a retail environment and contain several individual items. Sales packaging is the wrapping directly covering your product. When choosing packaging, think about protection, security, waste creation and costs.
Arrange transport. You can choose a traditional courier like FEDEX, UPS or the United States Postal Service to deliver your goods, or you can consult with a freight forwarder. This is a company that arranges transportation for cargo and offers help with logistics, dealing with customs and distribution. Also, ask about ocean freight delivery, which works out to be 7 to 10 times less than air freight.