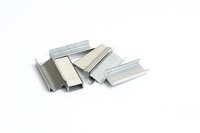 The Boston 131 is an older model of heavy-duty stapler. Heavy-duty staplers have a wide opening to accept a wide stack of papers, and a longer arm than a desk stapler's to provide more leverage to press a staple through the stack. To load staples into most desk stapler, you only need to lift the arm to find where the staples go. However, the Boston 131 has a rear-loading staple holder that pops out of the back.
Set the Boston 131 on a table.
Find the button at the back of the stapler. The button is between the hinge of the arm and the base of the stapler.
Press the button in and up to release the spring mechanism that holds the staple loader. The loader will slide open.