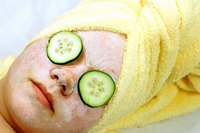 A sunburn on your face isn't just unsightly, it's also uncomfortable and can result in long-term skin damage. The best treatment is prevention, such as using sunscreen, wearing hats and limiting your time in the sun. When it's already too late, soothing the burned skin and setting the stage for healing is the next best option.
Things You'll Need
Small aloe vera leaf or pure aloe vera gel
Plain yogurt
Oatmeal
Tomato
Small bowl or cup
Fork
Spoon
Mixing bowl
Cook 1/4 cup plain oatmeal by boiling 3/4 cup water, adding the oats to the water, and reducing the heat to low. Stir constantly for about five minutes, until cooked.
Place the cooked oatmeal in the refrigerator to cool.
Squeeze fresh tomato juice by slicing a tomato in half and gently squeezing the juice into a small bowl or cup, until you have one tablespoon of tomato juice.
Peel the outer green skin off the aloe vera leaf and mash up the clear inner flesh with a fork -- until you have about one tablespoon of aloe vera. If you don't have access to fresh aloe vera, substitute one tablespoon of pure aloe vera gel, which can be found in most drugstores.
Mix together tomato juice and aloe vera with half a cup of plain yogurt.
Stir the cooked oatmeal into the yogurt mixture. Make sure the oatmeal is cooled completely.
Spread the oatmeal-yogurt mixture on your face, taking care not to get it into your eyes, ears or mouth.
Wait 10 to 15 minutes for the mask to absorb and treat the sunburn.
Rinse the mask off with lukewarm water.