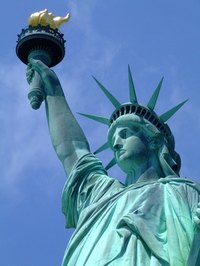 One mile from Lower Manhattan on Liberty Island stands one of American's most recognizable icons, the Statue of Liberty. The statue was given to the United States by the people of France in 1885. It arrived in New York Harbor by ship packed in 214 boxes and took more than four months to assemble. According to the National Park Service, the Statue of Liberty is visited by more than three million people annually. The observation deck within the pedestal offers a remarkable 360 degree view of New York harbor as well as Manhattan, Brooklyn and New Jersey.
Things You'll Need
Internet or telephone access
Credit card
Valid photo identification
Browse the Statue Cruises website at Statuecruises.com. Click the "Statue of Liberty and Ellis Island Tickets" button in the menu on the left-hand side of the screen. Click the "Tickets and Reservations" button. Tickets may also be purchased by phoning 877-LADY-TIX (877-523-9849).
Choose a point of departure. Liberty Island is only accessible by using Statue Cruises, an authorized National Park Service concession provider. Ferries depart from Liberty Park in New Jersey and Battery Park in New York. Private vessels are prohibited from docking at Liberty Island. Click the button corresponding with your departure location. Ferry tickets range from $5 to $13 per person.
Choose the ticket type you wish to purchase. Entrance to the Liberty Island grounds is free as are tickets to the statue's pedestal. These admission tickets are available from the ferry company on a first-come, first-served basis. Tickets to the pedestal allow a limited number of people inside the lower levels of the monument each day. Crown level tickets are available for purchase with a ferry pass, but are limited in number and require reservations.
Click the "Book Tickets" button. Review the ticket options available and select a ticket option. Select a date and time from the tour options listed. Enter the number of tickets you wish to purchase, and click the "Add to Cart" button. Review the tickets to be purchased in the Cart and select "Checkout." Complete the billing information as instructed.
Print a copy of your ticket purchase. Pick up Crown tickets at the ticket Will Call window before departing on the ferry to Liberty Island. Bring a valid photo ID and the credit card used to make the ticket reservation. Note the Crown tour time on the face of the ticket.