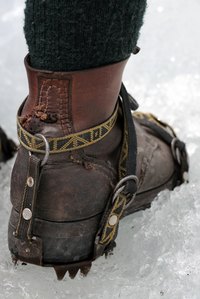 Your Wolverine work boots take a lot of abuse on the work site and need periodic repair. The leather can get cracked, stained and scuffed. With the proper application of elbow grease you can fix these problems without having to visit a shoe repair shop. By carefully and promptly repairing your Wolverine work boots, you can make them last for years to come. The repair process will take some time so have a backup pair of boots handy.
Things You'll Need
Bristle brush
Towels
Leather conditioner
Shoe polish
Rag
Epoxy resin
Sandpaper
Remove the insoles and empty out any dirt or rocks from the inside of the Wolverine work boots. Mix soap and water in your sink and dip a rag into the soapy solution. Wipe the work boots down with the rag, making sure to cover all of the leather surface. Clean off any dirt and light stains that you can remove with the rag. Dry the work boots with towels; do not let the water stand on the boots.
Dab vinegar onto a paper towel and wipe down the outside of each boot. The vinegar will eat into any chemical stains like the salt used in deicers. Wipe down the outside with the soap solution again to keep the vinegar from soaking into the leather. Use towels again to dry off the work boots.
Dab some leather conditioner on a clean rag. Then rub the conditioner into the leather of the Wolverine work boot. Rub the conditioner in firmly, covering the entire leather boot surface. The conditioner helps the leather keep its pliability and resilience.
Rub the inside of any sole that is falling off with rough-grit sandpaper. The sanding helps to create textures the epoxy resin can attach to. Use the epoxy resin's syringe-like applicator to squeeze resin onto the inside surface of the sole. Then press the boot onto the sole for 30 seconds to allow the adhesive to bond.
Polish the Wolverine work boot with shoe polish. Rub the polish on with a rag using strong, circular movements. Rub the polish off the same way with a clean rag. It will take time to cover the entire surface with shoe polish and more time to scrub it off, so watch a movie if you like.