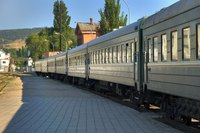 The Amtrak Auto Train provides the only train option for transporting your vehicle from New York to Central Florida. The Washington, D.C. area Auto Train station is the Northernmost station served by the Auto Train, and is the starting/loading point for transporting your car to Florida. The Auto Train Station in Lorton, Virginia is 25 miles south of Washington, D.C. Once loaded, it takes 17 hours and 29 minutes for your car to arrive in Sanford, Florida, just outside of Orlando. It also requires you or another person to accompany the car during the trip.
Things You'll Need
Computer with Internet access
Telephone
Planning, Reservations and Booking
Make a reservation for your car. Visit the Amtrak Auto Train website, or call 1-800-USA- RAIL (1-800-872-7245) to reserve a space for your vehicle. The TDD/TTY number is 1-800-523-6590.
Pay for the trip. Amtrak accepts cash and all major credit/debit cards. You can pay in person, over the phone or online.
Measure your vehicle. If your vehicles dimensions are not available in your owner's manual, use a tape measure with the assistance of a helper. Amtrak has very specific limitations on the size and dimensions of vehicles eligible for transport. Compare your measurements with the requirements listed on Amtrak's Auto Train website.
Map your route to the Lorton, Virginia (Washington, D.C. area) station. Using an internet mapping tool such as Mapquest or Yahoo! Maps, enter your current address/physical location as your starting point, then enter the Auto Train's Lorton, Virginia address (8006 Lorton Rd., Lorton, Va. 22079) in the destination box. This will give you detailed driving directions to the station from your location in New York to the Auto Train's Lorton station to load your vehicle.
Vehicle Preparation and Check-in
Load your vehicle. Amtrak does not allow checked baggage. Pack your luggage inside your car, but remember that your luggage is not accessible during the trip. You are permitted carry-on bags and should place personal hygiene items, medication, etc., in a carry-on bag to travel with you while aboard the train.
Remove items such as bicycle and luggage racks from the roof of your car. Racks on the rear of the vehicle are permitted.
Disarm your alarm. Amtrak recommends that you deactivate your car alarm to prevent a dead battery if your alarm goes off en route.
Check in. Depending on the size of your vehicle, arrive at the Lorton, Va. station one to two hours prior to departure. Check in begins at 11:30 a.m. daily. Check the website or call 1-800-USA-RAIL to determine your vehicle's size and recommended check-in time.