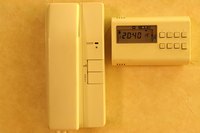 Security system distributors sell, rent and install security systems for homes and businesses. There are a few system distributors like ADT that offer their systems and services nationwide but many large cities have smaller security companies that often attempt to compete with these national chains. Becoming a security system distributor requires a background in electronics, security or law enforcement and some business savvy as well.
Research your local market. Success in business depends upon having a business plan in place that you can follow. It is impossible to establish a business plan without first knowing the ins and outs of your local market. Research other security system distributors in you community. Determine how many there are, how many customers they have, what kind of equipment they offer and what kind of prices they charge. This will put you in a position to compete when it comes time to start your business. You should also speak to someone already in the industry. Ask about some of the ins and outs of starting a business in this field. It is advisable to seek advice from someone in another town so that you will not be trying to seek trade industry secrets from your competitors who may be hesitant to provide such information.
Inquire about licensing with local, county and state licensing agencies. Government licensing is required to start a security alarm system business. This is generally true with any business directly affecting public safety. Obtain a business tax identification number by visiting the IRS website so that you can register your business with the licensing authorities.
Learn the ins and outs of installing security systems. A 2011 article by Gaebler Ventures notes that in order to compete in this industry, you will have to be able to land the contracts of customers who will need installation services. Many people do not want to install their own security system, so you will need to either be able to provide the installation service yourself, hire someone to do it for you or subcontract the work to another professional.
Launch your initial marketing campaign. This can be done any number of ways including classified advertisements, networking and even door-to-door marketing. Consider offering discounts or even free systems to new customers. The lucrative part of the security system industry comes from the recurring contracts that customers sign year after year for monitoring purposes. In the long run, the long-term relationship with a customer will pay for any discounts given to new customers.