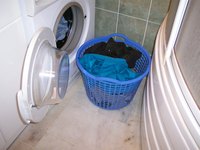 Commercial laundry detergent can be quite expensive. However, you can make your own homemade laundry detergent for a fraction of the cost of buying commercial detergent, averaging under a penny per load depending upon the cost of supplies in your local area. A 5-gallon batch of laundry detergent is enough for 240 loads of laundry. Only a few supplies are needed, many of which can be found at your local hardware store or grocery store.
Things You'll Need
5-gallon bucket with lid
Grater
Saucepan
Wooden spoon
Water
Laundry bar soap
Borax
Washing soap
Grate 2 cups of laundry bar soap.
Boil 4 cups of water in a large saucepan on medium heat.
Slowly add the soap to the water. Stir the mixture until the soap has completely dissolved.
Fill half of the bucket with hot water. Add 1/2 cup borax and 1 cup washing soda to the water. Stir contents of the bucket for 20 to 30 seconds.
Pour the soapy water from the saucepan into the bucket. Stir for an additional 20 to 30 seconds to thoroughly mix the ingredients.
Fill the bucket with hot water. Secure the lid and allow the laundry detergent to set overnight. In the morning, the laundry detergent will have a gel-like consistency and look similar to clear egg drop soup. Use 1/2 cup of detergent per load of laundry.