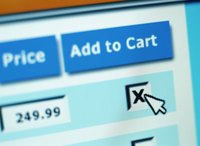 Online marketplaces provide a venue for sellers to post their products and buyers to browse or buy them. The success of online marketplaces such as Etsy and eBay demonstrate the potential of the online marketplace model. Building your own online marketplace demands a combination of software savvy and patience, as well as niche focus and community building.
Software Needs
Online marketplaces need to accomplish a number of simultaneous goals. They must provide sellers the ability to create individual storefronts while providing buyers secure payment options. You also need the software to automate your cut of each sale and, if you implement them, listing fee charges. You can build a marketplace from scratch yourself or hire a designer to do it. Dedicated marketplace themes and plugins for content management systems, such as WordPress and Dupral, as well as open source software offer you free or low-cost solutions. You can also purchase a license for any number of high-end, online marketplace and e-commerce solutions.
Patience Is a Virtue
New online marketplaces face an inevitable Catch-22. Attracting sellers requires that you give them buyers, but buyers only appear when you convince sellers to post their products to individual storefronts. Online marketplaces gain traction slowly, usually over the course of several years, before they hit the tipping point of fast growth. You need patience to endure the slow-to-moderate growth during the traction-gaining phase. You also need patience as buyers and sellers learn to trust your marketplace and data security, which requires repeated positive experiences.
Niche Your Way to Success
Marketplaces do not spring into existence catering to dozens or hundreds of product categories. Amazon, for example, started with books. Fast Company reports that Fiverr, the freelancer marketplace, began with only eight categories of services. Homing in on a specific niche, a specific hook or both lets you focus your attention and deploy your financial resources to best effect. It also helps you to draw the attention of a specific market segment of buyers and sellers who may prove more willing to roll the dice on a new niche-specific marketplace.
Build That Community
A successful online marketplace depends on building an engaged and passionate community of users. In addition to providing solid support, you can offer forums for buyers or sellers to talk to each other or provide guidance. You can integrate social sharing features that let visitors and customers share the products they like on social media sites. Most important, you need to listen to your early buyers' and sellers' suggestions about the marketplace. Adopting those suggestions lets community members feel they have a personal stake in the marketplace, which helps lock them in as long-term users.