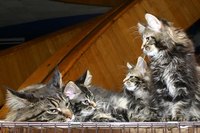 Automatic pet feeders can make your life easier by cutting down the feeding of your cat. Unfortunately, however, some animals will overeat if they have the chance to, so using an automatic pet feeder daily isn't recommended. Pet feeders are good for feeding your cats while away for vacation for a few days. This will allow you to leave the right amount of food for the cats, as long as the animal doesn't gorge itself the first day. So before leaving your animals for an extended period of time, watch their eating habits.
Things You'll Need
Plastic jug
Cardboard box
Scissors
Marker
Round dish or plate with edges
Strong packing tape
Packing string
Cut the top off the cardboard box. Cut off two sides of the box just leaving an "L" shaped wall. This will help to stabilize the box and your feeder.
Wash the plastic jug with clean water to remove any residue. Turn the jug upside down and hold between your knees. Cut the bottom off the jug and try to smooth out the plastic to prevent any tattered edges.
Hold the jug up to the box to see where the placement is. Draw two lines on the outer edges of the jug. Remove the jug and cut two small slits on the marks where you will tie the string.
Place the dish or plate in the box and then place the jug. Secure the jug with the string and tape the jug for additional support.
Put the box in the corner that you are using to feed the cats. Place the "L" shape directly in the corner to give stability to the feeder.
Fill the jug with the food. The food needs to be small enough in size so it will flow through the hole in the jug.