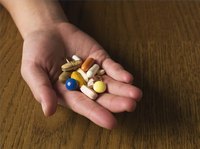 How to Control Vaginal Discharge. Vaginal discharge is normal, but the amount may be altered by infection, hormonal changes, illness and stress. Some women naturally have heavier discharge, which may fluctuate around the menstrual cycle.
Things You'll Need
Cotton Underwear
Pantyliners
Use pantyliners. They won't stop the discharge but will keep you feeling fresh.
Wear cotton underwear. It helps absorb moisture and allows the air to circulate.
Use plain white, unscented toilet paper. Perfumes and dyes could be irritating and cause more discharge.
Douche with plain warm water when discharge is extremely heavy. Avoid douching regularly with commercial products as they can frequently upset the normal vaginal flora.
Avoid using vaginal deodorant sprays. They can cause irritation.
Switch your oral contraceptives if the problem began when you started taking them. They could be the culprit.
Keep track of when the discharge is heaviest and when it is lightest. See what seems to change or otherwise affect it.
Have a thorough check-up if this is a new phenomenon. Discharge can be a sign of an infection, a hormone imbalance or a systemic illness.