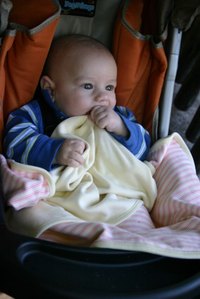 Thousands of people visit Disneyland each day to spend time with their family, friends or significant others in what has been called the "happiest place on earth." Disneyland boasts dozens of rides, restaurants and other attractions. If you are visiting Disneyland with babies or very small children, you should have a stroller, which may also be used to carry other items as well. To keep your stroller safe at Disneyland, there are simple steps you can take to ensure it is not stolen or lost.
Things You'll Need
Tie a ribbon and balloon around your stroller to ensure you can identify it from other strollers that may look similar. Disneyland rents similar-looking strollers to its visitors, so this step prevents others from mistaking your stroller for their own. Additionally, tying a ribbon or balloon around your stroller will help you identify your stroller in a crowd of people should it be taken without your permission.
Remove all valuable items from the stroller to prevent others from taking it. If you must, only leave a diaper bag in your stroller, but be sure to place it underneath the stroller to keep it out of plain view. Carry an extra bag with you that contains your valuables in it so that you can easily remove it from the stroller at various rides and attractions. If you cannot remove valuables, be sure to have someone you trust look after the stroller while you are away from it.
Use a bicycle lock to lock your stroller to a secure location. You can also use a bicycle lock around the wheels of the stroller to prevent it from being moved.
Watch your stroller as much as possible when in line for an attraction to track who may move or take your stroller. Disney employees often move strollers for organizational purposes, so recognizing that your stroller has simply been moved and not stolen can prevent unwanted panic and stress.