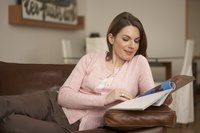 Subscriptions can be the lifeblood of a magazine, or at least a necessary revenue stream to supplement advertising. Understanding some of the basic, tried-and-true techniques magazines use to increase subscriptions will help you choose the strategies that best fit your goals and budget.
Free Trial
One of the most common methods for increasing circulation is to give potential readers a free trial. This is often one to three issues of the magazine, followed by an invoice mailed to the subscriber offering a paid subscription at either the full or a reduced rate. For online magazines, this might be a 30-day trial or access to a limited number of website pages. Work with companies that sell products to your readers, trading free subscriptions in exchange for the company's mailing list. Work with trade and professional associations if you are a business magazine. Contact a list broker and give the broker a detailed list of the demographics of your potential readers.
Freemiums
Offer a free or reduced-priced gift to new subscribers, or to those whose subscriptions have been expired for more than several months. Work with an existing advertiser or any business that wants to get its product into the hands of your readers. You might get free gifts from the company, the company might split the cost of the promotion with you, or the company might sell you product at its cost and give you its customer list.
Gift Subscriptions
Encourage your paid subscribers, who have demonstrated they value your magazine, to buy gift subscriptions for friends. Run a holiday special or a year-round birthday promotion that recognizes the gift giver to the new subscriber. Businesses are prime targets for gift subscriptions if you can include the gift-giving company's name on the mailing labels of their giftees each issue. Promote gift subscriptions not only in your magazine, but also on your social media pages and websites.
Offer Online Value-Added Packages
If you give your magazine away, offer paid subscriptions that provide enhanced value to readers who are willing to pay for it. This could include access to issues and article archives on your website, unique content not found in the free version, tools and videos on your site, discounts and coupons for advertiser products, and other incentives.