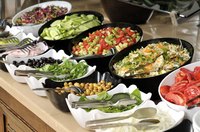 As a budding buffet entrepreneur, you see great potential in opening a business that offers patrons a wide assortment of food for a reasonable price. Starting a buffet-style restaurant involves both theoretical forecasting as well as brass tacks in getting the smorgasbord concept off the ground.
Determine Buffet Type
Choose a format of buffet-style restaurant that suits your interests and resources. The all-you-can-eat concept simplifies pricing in that patrons pay a fixed amount per meal, yet the numerous items can be overwhelming to manage. A cafeteria-style buffet offers many selections that are prepackaged and wrapped, allowing a customer to pay per individual item at the cash register. Vary the concept, such as an all-you-can-eat station combined with a pay-by-weight take-out option, or a seasonal or specialty buffet. Alternately, buy a ready-made buffet franchise, such as Golden Corral or HomeTown Buffet.
Conduct Market Research
As part of your due diligence and formation of a business plan, study the existing market for buffet restaurants in your area. Market research helps you gauge what is going on among key players in the industry and where you fit into the scheme. Buffet start-up Your Way Buffet conducted primary market research through surveys and defined its target market as the on-the-go lunch set between the ages of 18 and 50, with busy lifestyles who seek quality and value. Competitive analysis positioned Your Way as a fast casual restaurant, offering higher food quality and speed of service than other fast-food alternatives.
Financials and Profit Forecasts
Hammer out the financial details of your buffet business, including any debt in the form of loans and the percentage of equity stake to be awarded to the various directors. Prepare projected cash flow statements for the buffet, based on stated assumptions. For example, presume an average of 22 days per month, 200 customers daily for the first three months -- with incremental increases thereafter. Forecast an average spend per customer, as well as average costs. If your target gross profit margin is 65 percent, average restaurant cost would be 35 percent of average spend per customer.
Equipment and Staffing
Outfit the human and physical components of your buffet business. For Your Way Buffet, this meant securing two high-traffic locations in the city center and negotiating cheaper rent for the first year. It also occupied space that was already outfitted with industrial kitchens and restaurant space, thus saving costs. It applied for food and drink establishments licenses ahead of signing any lease, including a street cafe license for overflow seating. The start-up also sketched out the directional traffic flow of the buffet, designated its chosen suppliers and enumerated staff positions, recruitment and attendance policies.