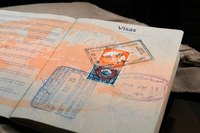 Known for its vibrant cities, wide open spaces and historic landmarks such as the Statue of Liberty and the Lincoln Memorial, visiting the United States tops travel lists for many foreign visitors. If you've arrived in the country on a tourist visa and have decided that you want to pursue a post-secondary education at an American school or university, you need a student visa.
Instructions
Determine if you qualify for a student visa. Under the Immigration and Nationality Act, students must prove that they have a residence in their home country. They also must show they have sufficient funds to cover the cost of their educations and that they are prepared to leave the U.S. once they finish their studies.
Gain acceptance into an American educational institution. Student visas are granted to foreign students who attend school for more than 18 hours per week. Visitors traveling to the U.S. for conferences needed to complete a degree also require a student visa.
Visit a local U.S. Citizenship and Immigration Services office to start the application process. If you live outside of the U.S., apply at your nearest American embassy or consulate. If you are 14 to 79, expect to undergo an interview. Apply early to complete the application process well before classes begin.
As part of the visa application process, you will need your passport and student visa forms and receipts. You may need to provide academic transcripts, standardized testing scores and financial documentation to show that you are able support yourself during your stay in the U.S. If you have dependents, they too will have to apply for visas.
Pay all necessary fees. You are required to pay for the student visa as well as fees related to the Student and Exchange Visitor Program, a federal program that monitors international students, exchange students and their dependents.
Wait for your application to be processed and approved by U.S. Citizenship and Immigration Services before you begin school. You will violate U.S. law if you start classes without the visa and may be deported.
File and store all receipts and documents related to your application or visa approval in a safe place. You may need these documents for future reference.