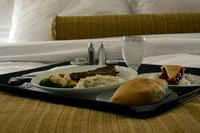 Room service, which allows you to have food delivered to your room with just one phone call, is a convenient option offered at many hotels. It is especially useful to business travelers who are unwilling or unable to leave the room for a meal. Room service is easy to use, and can be charged to the room, so you don't even need cash.
Things You'll Need
Room Service
Locate the room-service menu. In most hotels, it is located with the welcome packet of information in the room. If you cannot find the menu, call the front desk to request one. Take note of any time limitations on ordering room service.
Decide what you want to order. Hotels differ dramatically in terms of what is offered on the menu. Upscale hotels and those geared towards the business traveler may offer fare that is more exotic by integrating room service with the on-site restaurant or using local or organically sourced products. Budget hotels without an attached restaurant typically have food that is much more basic.
Call the designated number for room service. The number is usually printed on the room service menu or on the telephone. Make sure you are prepared with your room number and a list of your desired menu items. Notify the person who takes your order of any dietary restrictions or special requests. Ask how long delivery will take and whether there is a service charge for delivery. If there is a delivery service charge, you don't need to have additional money for a tip.
Prepare to greet the room-service steward. If paying in cash, have the money ready to hand to the steward when he knocks on the door. Many hotels bill room service to your room, which means that you pay for it as part of your final bill when you check out of the hotel. If there is no delivery service charge, be prepared to tip between 12 percent and 20 percent of your room service bill, depending on efficiency of service.
Call the front desk to arrange to have your tray picked up when you are finished.