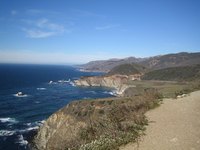 Without proper planning and research, a scenic drive up the California coast can become a logistical nightmare. The third-largest state in the union in terms of area, California offers more to see and do than you can accomplish in just one visit. To cover the most ground and get the most out of your driving trip along the coast, it is essential that you prepare for your travels before you begin the drive.
Choose a location to begin your driving trip. This will determine which airport you fly into, if necessary. Even if you live in California, flying is a better choice if the distance to your starting point is more than a two- or three-hour drive from your home.
Decide whether to rent a car. Even if you are a California native starting the road trip from your driveway, a driving trip will add many extra miles to your car. If you decide to rent a car, search for specials and fare sales to help keep the cost of your trip down.
Focus on one region at a time. California is home to some of the most diverse climates and topographies in the nation. From the sandy beaches of Southern California to the gigantic redwood trees in Northern California, a road trip up the California coast offers a wide range of scenery and experiences. If you only have a short amount of time to travel the state, you may want to think about exploring just one major section of the coast. For instance, the Central Coast is admired for sheer cliffs and dramatic scenery along the Pacific Coast Highway. If you are more interested in nightlife, major cities such as San Francisco in the Bay Area and San Diego and Los Angeles in Southern California offer myriad options for dining, drinking and culture.
Know where you are going. No matter where you decide to travel through your driving adventure, it is important to know where your destination is and have a route planned.
Organize accommodations and lodging ahead of time. California is one of the most popular tourist destinations in the world, as well as home to nearly 40 million residents who tour within the state. Depending on when and where in California you go, hotel vacancies may be scarce, so it is wise to book ahead.
Mark gas stations on your map. Many of the towns in the Central Coast south of San Francisco are fairly populated and well traveled, but there are several places along the California coast that are secluded. Be sure to get gas and supplies when you can along the road.
Let your credit card company know you will be traveling in California. In a climate of identity theft and fraud, credit card companies are much quicker to place holds on any spending they see as suspicious. For instance, if you live and spend in Kansas City, Missouri, the company will raise an eyebrow at charges in Newport Beach, California.