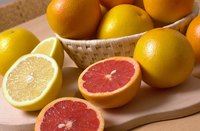 Limonene is used in cosmetic products, cleansers and insect repellents. If you need limonene for a project in the home, you may want to extract it yourself rather than ordering from a supplier. There are several different methods for extracting oils (like limonene), however, a new method involving methanol is the simplest and requires the least material preparation.
Things You'll Need
Orange peels
Sharp knife or razor blade
Methanol
Test tube with stopper
Cut the orange peels into small strips with the knife or razor. Make your pieces approximately .1 grams in mass.
Place the strips into the test tube. Fill with approximately 5ml of methanol.
Cap the tube and shake vigorously for five minutes.
Let the tube stand for five minutes.
Dilute the solution 10:1 with water.