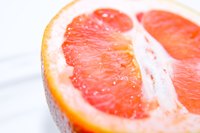 Grapefruit seed extract is a clear and odorless substance that has recently been discovered to contain many beneficial qualities. The extract is an antioxidant, antimicrobial agent and is rich in vitamins and minerals. Certain forms of grapefruit seed extract can be diluted and used as body cleansers. More recently, grapefruit seed extract has been discovered to act as a preservative. Learning to use grapefruit seed extract as a preservative can be a healthy and natural way to prolong the shelf life of creams, soaps and other cosmetics.
Things You'll Need
Grapefruit seed extract
Small bowl
Purchase a bottle of grapefruit seed extract. It can be found at health food stores or various places online. Do not purchase grapefruit seed extract that has the additive benzethonium chloride. This is a synthetic chemical that makes the oil unfit for use as it removes its natural benefits.
Select the cream or cosmetic product that you would like to preserve. Read the labels of any medications you are taking or products you will be using simultaneously to ensure that the extract will not cause a negative reaction.
Put on a pair of gloves before you begin working with the grapefruit seed extract. The high concentration can cause skin irritation. Add the extract to the product of your choice. You will want the extract to measure .5 to 1 percent for most products. Determine the size of your product and add drops accordingly.
Mix the product and extract thoroughly to avoid irritation and to ensure that the preservative qualities of the grapefruit seed extract are fully effective.