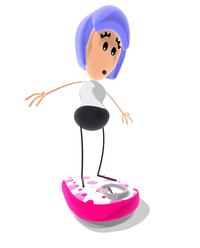 If you want to lose 17 pounds and keep it off, you should avoid crash diets that require you to follow a very low-calorie regimen. Crash diets deprive your body of the nutrients it needs and they weaken your immune system, putting you at greater risk for heart disease and dehydration. Rapid weight loss often consists of water and muscle tissue, not fat. To lose weight healthily and safely, you should do it gradually by reducing your caloric intake and exercising regularly.
Give yourself a little over eight weeks to lose 17 lbs. Lose 2 lbs. per week at the most by achieving a deficit of 1,000 calories per day. (One pound equals 3,500 calories.) You can achieve this through a combination of dieting and exercise. The MedlinePlus website advises not to lose more than 2 lbs. on a weekly basis because more will trigger your body's famine alert, causing it to hold onto fat instead of reducing it.
Eat every three hours of the day so your body is forced to keep converting food to energy and you feel satiated and less likely to give into cravings. Prepare small meals or simply cut your lunch, dinner and breakfast in half to create six smaller meals to consume throughout the day.
Say no to sugar, fried foods, alcohol and processed foods. Make healthy choices such as vegetables, fruits, whole-grains, lean protein, unsaturated fats and fiber-rich products. Limit carbohydrates and eat them early in the day, so they have time to digest. Avoid eating anything two hours before going to bed.
Incorporate cardiovascular exercise and strength training to burn fat from your entire body. Build your cardio up to complete 45 minutes per day, three days per week. Switch the cardiovascular exercise, so you don't get bored. Choose from running, cycling, swimming or working out on an elliptical machine or stair-climber. Tone all parts of your body by lifting weights on three non-consecutive days of the week. Watch your form in the mirror as you lift the weights and always contract your abdominals for stability.
Go to bed on time so that you can get seven to nine hours of sleep and allow your body to restore and replenish itself. Sleepfoundation.org states that insufficient sleep can lead to overeating and makes you feel fatigued, affecting your productivity during the hours you're awake.
Drink at least eight glasses of water each day and make it your primary beverage because it has no calories or fat and helps metabolize fat, deliver nutrients to cells, flush out toxins and hydrate your body.