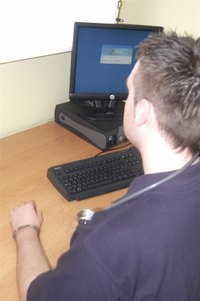 According to the United States Department of Health and Human Services, there are over 3,000 federally certified rural health care clinics across the United States. These clinics can take advantage of a number of resources including those offered by hospital associations, health departments and insurance provider networks.
Contact your State Department of Health. The department can provide you with your state's regulations and laws for health care clinics. If possible, contact the department prior to purchasing, renting or constructing the clinic. You do not want to invest in a new clinic building only to discover that regulations required your clinic to be built to other specifications.
The Department should inform you which state agency is responsible for administering programs in your state on behalf of the United States Centers for Medicare & Medicaid Services (CMS). This agency can provide you with the CMS documents and applications to obtain federal certification. Federal recognition is important as you may need to accept the federally funded Medicaid and Medicare payers.
Join your state hospital and community care associations. The associations should provide you with resources such as access to a group purchasing organization. By reaching out to other association members, you will build profitable relationships with other industry participants. These relationships will prove useful. For example, your clinic's economic situation may force you to affiliate your clinic with another larger health care provider such as an area hospital. Your association relationships will allow you to become familiar with the other participants and strengthen your ability to make strategic decisions regarding the best organizations with whom to potentially partner.
Recruit health care professionals. Your solicitation to health care professionals will vary based on the size and potential scope of your clinic's offering. For example, if the focus of your clinic is primarily on charity care, you will need to approach area health care professionals with the supposition that they donate time at the clinic.
Depending on state regulations, smaller clinics may enter into a contract with a physician through which the physician will assign a physician's assistant or a nurse to the facility.
Larger clinics are more likely to enter into a contract to retain physicians full-time and will have more leverage to set criteria to admit and award floor privileges to visiting physicians.
Join a provider network of area health insurers. Health insurance organizations will direct their members to your clinic if your clinic participates in their network. In fact, Health Maintenance Organizations (HMOs) require that their members visit in-network providers. Use caution when negotiating your agreement. Insurers will aggressively seek to establish low reimbursement rates.