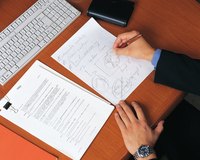 ERP (enterprise, resources and planning) relates to business and technology concepts for implementing automation systems. Designing such a scheme takes many people with varied skills. IT and business consultants play a major part in the planning and design process. There are various approaches to this massive task, including allowing the system to dictate processes or vice versa – for example, designing processes and then designing systems to suit. Ideally, a compromise between the two will probably provide the best approach.
Recruit qualified consultants. Unless you are a business and IT expert, it is likely that you will need to employ the services of external consultants. If you are only a small business, it is worthwhile to simply network and obtain contacts of people who can assist you in the design process.
Document the existing processes in a list and written notes. it is worthwhile to document the existing processes using diagrams, notes and statistics to refer later when designing a new system.

Diagram all the data flows in the system, including inputs, outputs and processing. This can be achieved via use of suitable diagramming techniques, such as data flow diagrams (DFDs), Unified Modelling Language (UML) or others.
If you are not familiar with any specific design technique simply draw a basic diagram showing where information comes from and its destination. An overview of the systems assists with areas in need of improvement, amendment or removal.
Design the new system. From the available documentation and your analysis design a new system using similar design techniques. Compare the two designs to see what has changed and if this reflects your thinking on the project.
Review the design. Once you have designed an ERP, review the information so that you can re-think any areas which are contentious or do not fit with the overall design. You may need to review the design several times before you are happy with the outcome. This may also involve a mental "walkthrough" of a system as it operates.

Identify hardware and software. Once you have completed the design, you are in a position to look for hardware and software which will enable you to put your ERP design into action.