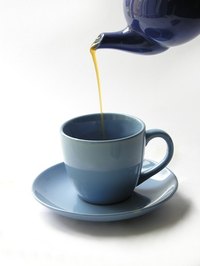 Chinese teas deliver high doses of polyphenols, antioxidants that show promise in reducing the risk for a range of diseases and cancers, but manufacturers also promote Chinese tea as a weight loss aid. Black, green and oolong teas are all varieties of Chinese tea that have received mixed reviews from scientists regarding their weight loss properties, but incorporating Chinese tea into your healthy lifestyle may be a safe way to supplement your diet with metabolism-boosting compounds to help manage your weight.
Things You'll Need
Loose leaf Chinese teas (black, white, green and oolong)
Tea infuser
Green tea bags
Tea kettle
Disposable or refillable water bottles
Mug
Consult with a doctor or nutritionist about your diet and lifestyle. Weight loss involves a combination of both healthy diet and exercise. On its own, Chinese tea will not cause weight loss if you engage in an unhealthy or sedentary lifestyle. Doctors will advise you as to the most useful changes your can make in your lifestyle to promote weight loss.
Exchange your regular morning beverage for a cup of hot Chinese black or white tea. Black tea contains natural caffeine that increases energy and mental alertness. Increased energy supports your body through physical tasks so that you can extend your workouts to promote weight loss.
Drink your tea without added milk, cream or sugar. Tea with sugar and cream still delivers antioxidants, but the added calories and fat inhibit weight loss efforts.
Drink 1 cup of brewed green tea at least five and up to eight times per day. A 1999 study published in the "American Journal of Clinical Nutrition" found that drinking at least 5 cups of green tea each day increases the amount of daily caloric expenditure by an average of 80 calories (see Reference 1).
Drink green or black tea prior to your meals. Green and black Chinese tea often act as an appetite suppressant to reduce your overall caloric intake during meals.
Incorporate 1 to 2 cups of Chinese oolong tea into your daily diet. A 2009 study published in the "Chinese Journal of Integrative Medicine" found that daily consumption of oolong tea resulted in preferential fat burning and decreased body fat content by increasing metabolism (see Reference 2).
Brew approximately five green tea bags to 1 qt. water. Chill the tea. Distribute the chilled tea into two to three empty water bottles. Keep the bottles in the refrigerator and drink them during a daily workout or walking routine. The caffeine will sustain your energy while you fill your daily green tea quota.