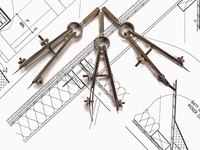 The American Institute of Architects (AIA) has over 100 pieces documentation that have been prepared and are used by architects and engineers, contractors, project owners and lawyers. They are considered to be the industry standard for contracts in construction and design projects. The AIA contract documents do not adhere to the laws of any individual state; instead they are for national use such as LEED (sustainable architecture). This documentation is continually updated; existing contracts need revisions periodically as changes occur in national building codes or the industry, such as new sustainable architecture laws and mandates. A synopsis of each form is available prior to choosing it.
Things You'll Need
AIA membership to download forms
Ascertain what type of documentation is required. The AIA documentation is divided in two main categories. One is called "families" and the other is "series." The documentation is connected by procedures between the architect and others such as contractors and owners. On occasion, several documents in the same "family" or "series" will be needed under the same project.
Establish what type of project delivery method is required on the project for the "family" method. It can be small or large projects. This information will decide which of the documents the architect will require.There are eight project delivery methods. One is "design bid build," which means after the architect has designed a building, it is sent out for bids from contractors and then built. The A series features owner/contractor agreements, while the G series has contract administration forms.
Establish what classification of "series" is required. The documentation is divided into several classifications such as the B-series. Among the more than 30 documents in this classification is one that is a standard form of agreement between the project owner and the architect. This document deals with the five phases that an architect performs as services. They are schematic design or the initial sketches done by the architect, the development of the design, the bids to contractors, contractor negotiation for fees and finish dates and construction. Compensation means for the architect are handled with this document.
Fill in the desired forms according to its requirements. Regarding monthly contractor payments a G702 form is required. Fill in the first line with all the original fee agreed to by the general contractor. Line two will be filled out with net change fees. This is any fee for services that were not defined on the original contract. Additional lines will require information on how much has been paid on the original contract and any materials, such as plumbing or security equipment, that might be held in storage. The latter information will be deducted from future payment requests.