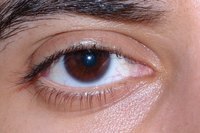 Bloodshot eyes occur when the blood vessels in the whites of your eyes, known as the conjunctiva, become inflamed due to irritation, allergy or trauma. A bloodshot eye typically recovers in a few days with proper care. More severe cases, or those with accompanying symptoms such as headaches or vision problems, warrant immediate medical attention as they may indicate brain injury or serious eye damage.
Things You'll Need
Remove your contacts and any eye makeup. Items like contacts, eye liner and mascara only further irritate your already aggravated eye and increase the recovery time. You can purchase eye-makeup remover from any drug store or supermarket.
Place a cool compress over your eye immediately after sustaining a hit or trauma. Soak a clean washcloth in cold water and wring out the excess water. Lay down on and drape the cool compress over your closed eye. The coldness of the washcloth helps reduce swelling and inflammation of the affected blood vessels.
Apply a few drops of moisture solution to your open eye. Stand in front of the mirror and gently pull on your lower eyelid. Release two to three drops of moisturizing solution into your eye socket. Blink several times to distribute the moisture over the blood vessels. Adding moisture to your eyeball will expedite the recovery, especially if your eyes are normally sensitive to allergens. You can purchase moisture drops from any drug store or supermarket.