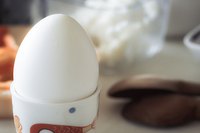 To lose weight, you need to eat fewer calories than you use during the day. This doesn't mean you should follow a fad diet like the boiled egg-white diet, as these types of diets tend to be too low in calories and too unbalanced to lead to healthy, long-term weight loss. However, using egg whites as your protein source a bit more often may help you improve your weight-loss results.
Eggs and Weight Loss
Simply adding eggs to your diet won't necessarily lead to weight loss, but including them as part of a reduced-calorie diet might. Starting your day off with a 340-calorie breakfast containing two eggs may help you lose more weight than a bagel breakfast with the same amount of calories, according to a study published in 2008 in the International Journal of Obesity. The people in the egg group lost 65 percent more weight than the people in the bagel group during the eight-week study, or about an extra pound, for a total weight loss of about 2.6 pounds.
Calorie Considerations
Eating two egg whites instead of a whole egg can save you calories, making it easier for you to lose weight. A whole egg including the yolk has 90 calories, but two egg whites have just 34 calories. Swapping your egg out for two egg whites will increase your protein intake as well, from a little over 6 grams to a little over 7 grams. Protein can help you feel full for longer than carbohydrates or fat.
Trading meat, fish or poultry for egg whites will also save you calories, saturated fat and cholesterol. A 3-ounce serving of cod has 89 calories, the same amount of roasted skinless chicken breast has 142 calories and a 3-ounce serving of lean pot roast has 199 calories. You could eat five egg whites and still be eating fewer calories, and egg whites are free of saturated fat and cholesterol, unlike these other protein sources.
Egg Whites and a Balanced Diet
A balanced diet includes a mix of foods, including a variety of protein sources. You don't want to eat egg whites at every meal, and you also need to eat fruits, vegetables, calcium-rich foods and whole grains.
Opt for foods that are lower in energy density, or calories per gram, and it will be easier to fill up while still cutting calories. Foods high in sugar or fat tend to be highest in energy density, and those containing a lot of fiber or water tend to be lowest in energy density.
Don't cut calories so much that you decrease your metabolism. Women should eat at least 1,200 calories per day, and men need at least 1,800 calories, recommends the American College of Sports Medicine.
Increase Benefits With Exercise
Adding a combination of strength training and cardio exercises to your daily routine will give you more benefits than just making dietary changes. If you don't exercise, about 25 percent of every pound you lose will come from muscle, notes the American Council on Exercise. Exercise helps you maintain your muscle while losing fat, and the protein abundant in egg whites supports muscle growth from exercise.
Safety Considerations
Make sure to thoroughly cook your egg whites. Raw egg whites could be contaminated with salmonella, which can be especially dangerous for people with compromised immune systems, pregnant women, elderly people and children. Salmonella causes diarrhea, vomiting, headache, fever, chills and stomach cramps. Although symptoms usually resolve themselves within a week, in some cases salmonella can cause death or a lasting injury.