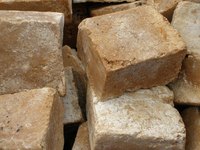 Diets emphasizing proteins are hugely popular, since protein tends to keep the appetite down. When the appetite is down, losing weight can soon follow. Carrying around chicken, turkey, and beans is less than convenient, but a wrapped, tasty, protein rich food is widely available: protein bars. Often found in the health food stores of supermarkets and drugstores, protein bars just might do the trick of curb your hunger and chasing those last few pounds away.
Include 45-65g of protein per day. Look at the nutrition facts on protein bars to see how much protein each has. Since scientists have found that eating a high-protein diet decreases hunger when compared to carbohydrates or fat, protein bars can be used to replace meals or snacks to ward off hunger. Since hormones and enzymes, new cells, and repaired body tissue are created from Protein, include it to maintain optimum health. Since protein helps to maintain fluid balance, fight illness and disease, transport oxygen and nutrients through the body, and provide energy, including protein bars in your diet can help you feel better overall. When you feel better, motivation to eat well and exercise is that much easier to find.
Look for "nutrient dense" bars. Eating something that is nutrient dense means eating something with many nutrients for as few calories as possible. Some protein bars are more nutrient dense than others: those with at least 14g of Protein and less than 200 calories are best. Find bars that are supplemented with plenty of other nutrients, Balance Gold and Think Thin are two options. Think Thin offers small 100-calorie bars with 6 grams of protein and no sugar, along with a host of great flavors: Chunky and Creamy Peanut Butter, Chocolate Fudge, Chocolate Covered Strawberry, Tangerine Creamsicle, and Lemon Meringue Pie. Nutrient-dense can equal fulfilled cravings.
Incorporate resistance exercise. A powerful method for losing weight is to reshape your body composition so that you have more lean muscle mass: protein bars teamed with consistent resistance exercise can accomplish that. More lean body mass burns more calories than the same amount of fat tissue, giving an advantage for those hoping to burn more calories over the course of a day. Exercise is always helpful for reaching weight loss goals: burning more calories than you are taking in will help you get to those goals. For every protein bar eaten, eat a little less of something else and incorporate physical activity whenever you can. A 200 calorie protein bar can be counteracted with about 35 minutes of very brisk walking, while still giving you all the benefits of great tasting, health supportive protein.
Replace dessert and snacks. Protein bars are anything but chalky: fruit flavors, chocolate, nuts, and caramel fill the leading brands, satisfying taste buds as much as hunger. They are an ideal dessert because they are calorie controlled while still satisfying a sweet tooth and while packing in nutrients.