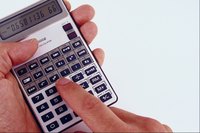 When you borrow money, you incur a debt. When you repay the debt, you must pay interest. Interest comes in two forms: simple and compound. Simple interest is interest only on the debt you owe. Compound interest is on debt you owe plus any unpaid interest on the debt. The more you leave unpaid, the more the interest grows on to your current principal. It is important to make sure you pay your debts in order to minimize debt paid back.
Enter the principal you owe. For example, you owe $10,000.
Enter your monthly payments on the credit card. Be sure to make them negative. In the example, use -$10. For any compound interest calculator, you need to be sure this amount is negative. Not all calculators allow a negative, so you may need to search to find one. One is available in the References.
Type your interest rate. In the example, assume 5%
Type the number of years you will make that payment. In the example, type 1 year.
Press calculate. In the example, after one year of paying only $10 on the $10,000 you owe, you will have accrued $376.75 of negative amortization from compound interest.