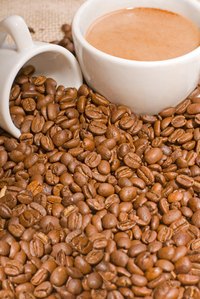 According to Coffee Research.org, about 54 percent of the adult United States population drinks coffee on a daily basis. The site also reports the average coffee drinker spends $164.71 a year on coffee. By beginning your own coffee line, you can capitalize on the daily demand for this popular beverage.
Things You'll Need
Get a business license. Be sure to also check for additional state requirements you might need. The United States Department of Agriculture is responsible for food safety and regulates the industry.
Develop a brand. Work with a graphic designer to create a brand and logo for your coffee company. Think about how you want your coffee to be perceived by the consumer. Do you want your coffee to have a brand that is elegant or fun? Be sure your logo and marketing materials communicate your brand.
Experiment with different roasts of coffee to create signature blends and flavors of coffee. Coffee is evaluated based on three characteristics: body, flavors and aroma. Adding flavors such as chocolate, vanilla or caramel provides more flavor varieties.
Create and package your coffee. Sell it wholesale online or in specialty or gift shops. You might even find a restaurant to serve the coffee.
Market your business. You may choose to offer sales, incentives and promotions to sell the coffee. If you plan to put your product in large retail stores, you will need a Universal Product Code, available from the Uniform Product Code Council.