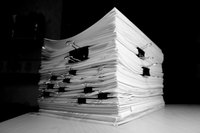 A generous vacation policy can help lure potential employees to your company over a competitor's, but people can prove resistant to any changes to their vacation pay. Federal laws do not mandate any aspect of vacation policy. Companies can alter policies at their discretion unless a previously signed contract outlines specific vacation terms or their state regulates certain features of vacation pay. Businesses wanting to change a vacation policy can do so the same way they change any other policy, although special care should be taken to avoid damaging employee morale.
Investigate the legalities of changing the vacation policy. Examine the specific vacation policies listed in union collective bargaining agreements or signed employee contracts. If you don't hire union workers or specifically outline vacation policies in employee contracts, you have no legal vacation requirements in the U.S.
Consult state laws to determine if you have any local restrictions concerning vacation policies. For example, California law requires companies to either pay out or carry over "use-it-or-lose-it" vacation time. The nature of your state's laws may affect whether you'd rather implement an accrued-time policy or give employees a set amount of time off at the beginning of the year.
Create a formal, written policy that clearly explains all aspects of vacation time; the accrual method and rate, any limitations on use, what happens if an employee quits or gets fired, and so on. Include the start date of the new policy on the document, and have the company president or owner sign the form.
Inform your employees of the new policy before putting it into effect. Check state laws again — some states require at least a one week notice to any vacation policy changes. While no formal notification requirements exist and you can verbally inform employees of the changes if you'd like, consider posting a written, dated memo to document the official notification date for your records.