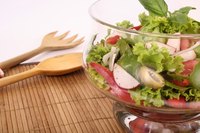 Eating lots of fruits and vegetables helps you control your weight and lowers your risk of cardiovascular disease, including heart attacks and strokes. In addition, fruits and veggies maintain your gastrointestinal health and prevent vision problems. Spending a week eating fruits and veggies lets you kick-start your healthy diet and learn to prepare a variety of healthy dishes. However, don't expect to eat nothing but fruits and veggies for longer than a week -- you also need whole grains and healthy fats, such as olive oil, to get enough nutrients and calories.
Eat at least two cups, or two servings, of fruit for breakfast every day. For example, you could make a fruit smoothie, stir blueberries into applesauce or have cantaloupe and a grapefruit.
Consume at least two cups of vegetables at lunch. For example, make a big salad or cut up carrots, celery and bell peppers and eat them with hummus or guacamole. If you have a salad, drizzle on some olive oil -- your body needs some healthy fat. The avocados in guacamole also provide healthy fats.
Eat another serving of fruit for dessert, such as an apple, banana, peach or mango. Canned fruit is also healthy, but choose fruits canned in water or light syrup, not heavy syrup.
Drink tomato juice or vegetable juice in the afternoon for a low-calorie, nutrient-rich snack. Alternately, choose a fruit juice, such as orange juice or apple juice, or eat dried fruit, such as raisins or dried apricots.
Eat two to three cups of vegetables at dinner, and try to eat some beans for protein. For example, make a hearty veggie soup with vegetable broth, lentils, black beans, tomatoes, corn, carrots and kidney beans. Alternately, make a stir-fry of mixed vegetables or eat a veggie burger patty with a side of soup or salad.
Consume a final serving of fruit for a dessert, such as fruit sorbet, frozen fruit juice pops or fresh berries.